Yesterday was a very bittersweet day. My dad, who passed away on May 13, 2009, would have turned 60 years old. I still miss my dad like crazy every day. Three weeks before my dad died, my brothers and I took him to the emergency room. His blood tests at the doctor's office that day came back and showed he was in danger of possibly bleeding to death if he accidently cut himself. After more testing at the hospital in the next few days we found out that my father was in stage four liver cancer (a blow as he had just beat colon cancer four years earlier) and was so weak that he was not going to be able to make it. The day he died changed my life and I'm sure I'll never be the same. But I know that I'll be stronger because of it.
Towards the end of his life my dad (a heavy set man for most of his adult life) started eating healthy. He went from close to 400lbs to 200lbs. He never got an accurate weigh in at doctor's visits when he was his heaviest. He couldn't really do much exercise because his back and knees were in terrible condition because of his weight.
But when I really think about it my true motivator for healthy eating is my dad. He was able to change his weight even when he couldn't exercise just by eating better. I have his will power and his stubborness (is that a word?) and I wouldn't change it for anything.
Yesterday I had the urge to do something I have never done... ride my bike to my brother and sister-in-law's house. Probably because I wanted to keep my mind off the fact that it was my dad's birthday and I couldn't celebrate it with him coupled with it was a gorgeous day weather wise.
So I started off riding my bike towards their house. Then I got to a road that had no sidewalks. Because I have no balance and am afraid of riding my bike on the road (I usually yell at the bike riders that ride on the road, from within my car of course and they can't hear me, lol and I get over to a different lane to be sure that I won't hit them.) and I started walking. Well I thought I could take a shortcut, but that didn't work, and went a different way taking me even longer (great for the exercise). So 1 hour and 21 minutes later, I finally reached their house a tired and sweaty girl. I mapped my route on SP and found that I walked/rode a total of 3.41 miles!
I didn't map it out before because I knew I would chicken out if I did. But it was great feeling to be able to walk/ride that far! I felt I celebrated my dad's birthday in a great way to him and to myself.
And on another note I'm down to 307.6lbs!!!!
Here's to my dad! A good man who was taken from us too soon!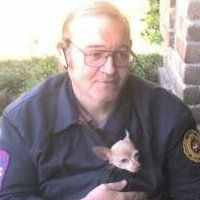 The route I took!